Holiday Gift Guide: For the Stylish Student
Written By: Kisatchy Le'stelle Owens
After hours of cramming for midterms, sleepless nights and sacrificed hang out time with friends, the last thing on any girls mind is more work. However the perfect gift for the stylish college student can make her forget the multiple tests, exams, and projects that consumed her over the course of the quarter, or semester. Reward her for all her hard work and accomplishments by giving her something to show off during the break or better yet rock when school is back in session.

From bags to jewelry, outerwear to beauty, these are some of the things that will make any fashion girl's holiday cheery. Gifts that cater to her guilty pleasures will be memorable and beneficial for both parties.

To get you started on your shopping frenzy, check out these must-have items:
1.
2.
3.
4.
1.
Buckled Up Bag
It's a no brainer, backpacks can be a bit daunting (when they lack uniqueness) especially for the trendsetter, so a sturdy bag that she can place all her school essentials in is the way to go. Look for ones that have a good amount of space and storage compartments.
2.
Branching Haute Jewelry Stand
If she's a jewelry fanatic, a beautiful stand to showcase her collection will come in handy. They make for an amazing display that will jazz up her room in an instant.
3.
Jeweled Rhinestone Cuff Watch - WEB EXCLUSIVE
Let's not forget how valuable time is. These days she may feel like that's one of the things she just doesn't have. Present her with a stylish watch that will save her from being fashionably late and an evil eye from the professor.
4.
Whiteout Moto Jacket
Layering this season is the way to go and with a staple outwear piece that can fit any look she's going for is a smart option. Moto jackets have that edge that many girls find appealing, it doesn't hurt that it may become one of her favorite pieces from you.
5.
6.
7.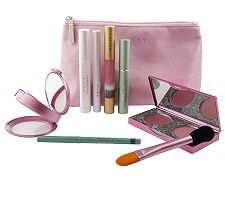 5.
Karen Kane Metallic Scarf
As winter approaches, scarves serve as the perfect accessory to keep warm. With so many styles to choose from, getting an insider tip of her taste will save the disappointment.
6.
Marc Jacobs Marc Jacobs Lola Eau de Parfum Spray 1.7 oz
Parading from from class to class is exhausting and she's probably going to want to freshen up throughout the day. Opting for a great perfume or body spray will have her feeling refreshed after each spritz.
7.
Mally Pro Beauty Tips & Tricks 8-piece Color Collection
For the makeup lover, there's always room for new products. A beauty set with the necessities won't hurt, especially if she's the type to keep eyes fixated on her glamourous self.